Animal Success Stories
Have you adopted from us? E-mail a picture and an update on your adopted companion to info@animalrescueforce.org and we'll post it here in our success stories. You can also share it with us on our Facebook page. We'd love to hear from you!
Click a letter to find an animal or
view all
.
Kaden
My name is Jason and my daughter Tessa and I adopted Kaden in 2011. Since then Kaden has been the most well behaved and amazing friend my daughter and I could ever have. He instantly became attached, especially to my daughter who he has become very protective of. All of our friends and family who come to visit have all fallen in love with him just as much as we have. When our family comes from New Jersey to visit they always make sure to bring Kaden toys and treats because he has stolen all our hearts. All we wants is to be loved and never to be left alone. He follows us wherever we go, even if it's just to the next room for a minute. He is just the best dog a family could ever have.
Kenya
We have been so blessed to have Amber (formerly Kenya) enter our lives. I am a single mom of one son and he begged me for a dog. At age 11, I thought he would be responsible and to my surprise he has exceeded my expectations. He walks her, bathes her and helps me in SO MANY WAYS... I will say that this dog has brought so much happiness into this home. She so far has 6 beds in the house (including ours) that she considers her own, not including our 3 couches (he,he)! She has more toys than any other dog I know. She is very persitant in getting her way. She is not a barker, only to my friend and her husband because she works at Animal Control. We gave her a birthday and it is July 7th, 2009. Amber is very, very smart, and she has become my son's best friend. WE LOVE HER WITH ALL OF OUR HEART, and have recommended A.R.F. to many of my friends. Thank you A.R.F. for completing my family. Marianne & Dylan Morrison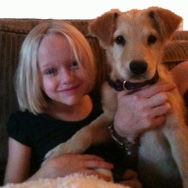 Kato/Riley
Hi, we adopted Kato at the Delray Christmas kids day and wanted to thank you for everything. We have renamed him Riley, and he is adjusting very well. Just wanted to tell you how much we love him and happy that he is part of our family. I am including a picture of him and my daughter (he is SOSOSO good with the kids....loves them). I really hope his brothers get adopted out too. I will check back to see if they do. Thanks again for everything and Happy Holidays, Sarah Brennan Shope
Kimmy
Dear Lisa & Kim, I wanted to tell you both how happy I was to meet you in front of the Petsmart. My husband & I had a Pekepoo named Misty who lived to be close to 18 years old. The loss of our pet was just so sad for my husband & I. We loved our little Misty and treated her like she was our baby because she was!! Loss of any kind is very hard to take but after that amount of time (18 years) it was brutal. We missed the love and companionship of our dog. We waited 4 months to start to see if we could try to visit with animal shelters and rescue groups without coming to pieces. The groups truly do care and they have so many animals that need good homes. We visited with at least 6 dogs who really would not have been a good match for us. Sadly we went home with no new dog. I looked on line and saw that ARF was going to be a Petsmart and my hubby & I decided to go. I viewed the dogs on line which was so helpful to see if any would be interesting to us. We came across a puppy (Rat Terrier) named Kimmy. She was alert, adorable,bright and kissy. We loved everything about her, I just love my new baby and her new name is COOPER . I call her Super Duper Cooper. She will have a wonderful life with us because we have so much love to give her. She is 4 months old and Misty died 4 months ago so she Misty pushed us to her to continue the love. Thanks so much for taking care of her and I will enclose a picture...
Click a letter to find an animal or
view all
.