Monkey's Web Page
Domestic Short Hair : : Male (neutered) : : Senior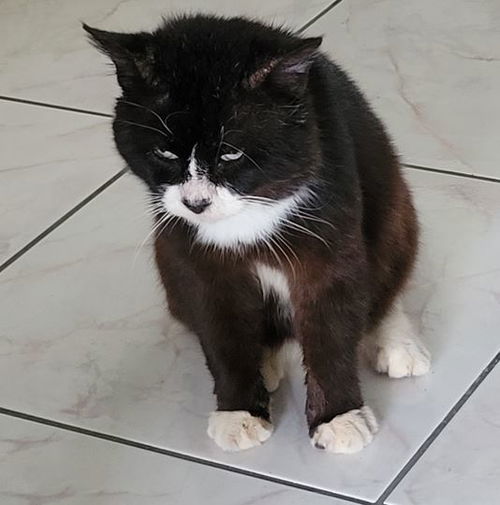 Please Note: This animal is listed as a courtesy to another organization. Please be sure to contact the foster/caretaker for more information about him.
About Monkey

Status: Adopted!
Species: Cat
General Color: White (Mostly)
Color: with black patches / Bicolor
Current Age: 11 Years 7 Months (best estimate)

Location: Courtesy Listing
Declawed: No
Housetrained: Yes
Update: Monkey's rescuer has fell in love with him and cannot part with him. He gets to stay!
We wish them all the best!

Meet Monkey! He was taken in by a wonderful woman who got him neutered, and even got his teeth cleaned. Monkey is so happy to have been taken in that he purrs all the time, even at the vet office, and even while getting a bath! Unfortunately, his rescuer's almost 18 year old female cat wants to have her home all to herself, and will not tolerate Monkey being there. She still has enough spunk to attack him with full power, and has almost got to him three times!
Monkey's rescuer is willing to take Monkey back in once her old gal goes on to the Rainbow Bridge, but for now, she's seeking a nice home for him. Monkey currently lives in a bathroom, so that the senior gal cat can live her last days out peacefully. Monkey did test positive for FIV, so he needs his own quarters unless you have a friendly cat, and they will not brawl (FIV is passed by a blood to blood transmission).
If you have a heart or room for Monkey, please call (561) 784-4792 to arrange to meet this happy guy! Monkey has those big apple cheeks if you like a big-headed boy! Monkey is not in A.R.F.'s care, but we are trying to help him get to a larger space, and to help his rescuer out.
Video of Monkey: